New figures for physical assaults on NHS Staff published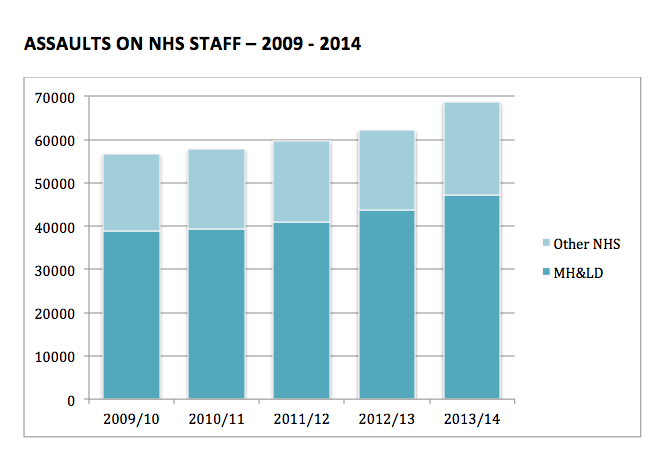 Last year (2013/14) there were 68,683 physical assaults recorded across the whole of the NHS, 47,184 (69%) took place in mental health and learning disability settings.
Mental Health remains by far the most violent sector of the NHS with around 1 in 5 staff reporting they were physically assaulted.
The number of total assaults in the NHS has increased 21% in the last five years, in mental health and learning disability the increase was 23%
Medical Factors
For the last five years the figures have also recorded how many assaults were due to 'medical factors', (i.e. due to the patient's illness)
In 2009/10 there were 22,624 'medical factor' assaults (39% of the total)
In 2013/14 there were 38,140 such attacks (55% of the total)
Whilst some Trusts report all assaults are due to medical factors, others record very few. (Oxleas reports none at all).
17 mental health trusts took no legal action as a result of the physical violence suffered by their staff.
The reasons for this are unclear, but may point to a trust wide difficulty in acknowledging and dealing with patient violence.
SOURCE: NHS Protect